Have you ever experienced falling from a height, might have got hurt too? Or sat in a swing that goes up and suddenly brings you down to earth, got stomach churns correct? Just by talking about it. So let us have a world tour about a similar concept of falling from a height and not even getting hurt, sounds good correct? You will merely fall in love with the gravity pull you get while experiencing skydiving, giving an extraordinary rush to your adrenaline level.
One might be astonished to know that skydiving is considered a sport, which gives one an experience worth remembering for the whole life. Collecting every single image on the retina that this beautiful universe shows while experiencing skydiving.
Let us take a look at the best places in the world to experience this adventure sports skydiving:
Palm Jumeirah
Dubai is known as the city of Gold. Dubai is full of adventures and fun you want. It would give one a golden chance to have a rollercoaster experience of skydiving in Palm Jumeirah. A place where you view the most aesthetic and mesmerizing locations like the sea and dessert below you. Sky diving at Palm Jumeirah will be imprinted on your memory. It would not be a good decision to skip this!
Hawaii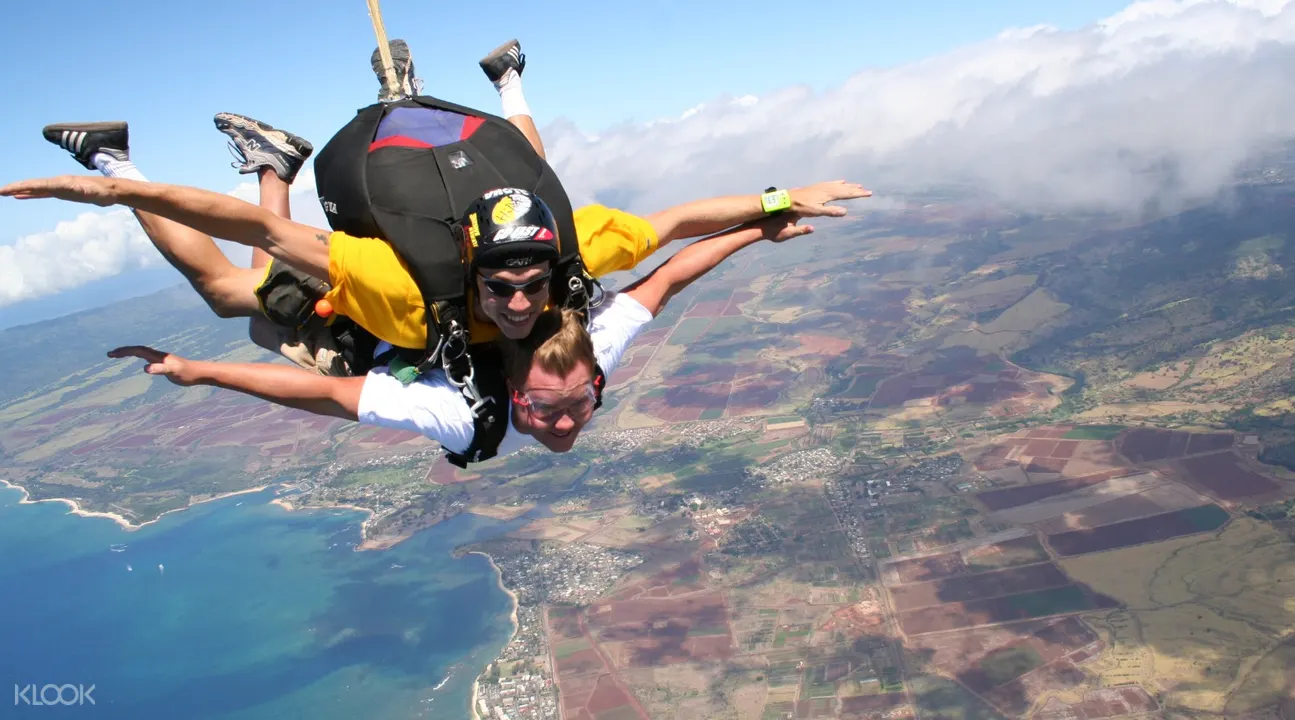 A place in the United States of America that gives stomach churns, Goosebumps, and extensive adrenaline flow just by being here. An island located in the middle of a vast ocean, beaches, palm trees, amazing view and cherry on the top is recreational activities available there. A skydive would that too in Hawaii is the destination you would never regret to visit. Greater heights say up to 20,000 feet making it feel the air like a bird.
Victoria Falls
Zambia holds a beautiful spot considered best for an adventure sport like skydiving. A dive through the clouds watching the beautiful rainbows and that water give you a smooth touch from the falls of Victoria multiple times until one touches the Zambezi River of Africa covering a minimum of 6000 ft. of the sky. A mixed feeling of intense joy and fear altogether.
Mauritius 
A location that always has a place in the bucket list of most of the people having wanderlust. And a skydive that to in Mauritius will surely be a privilege to have a bird's eye on the beautiful canvas of earth. You may see beaches, lagoon and sky view to black river.
North Wollongong Beach 
This place provides a wide range of water sports like sailing, water-skiing, kayaking and is fit to in wish list of an adventurous person. Just imagine a view from 14k ft. above the blues of Sydney, Australia. Having a chance to watch the wonderful creatures of the sea like dolphins and whales. Diving straight into the blues of North Wollongong.
Interlaken 
Switzerland, often considered as the synonym of snow and beauty and a paradise on earth, a perfect location to skydive. A breath-taking experience in between the glaciers and a chilled touch of snow. Leaving the worries and diving in the amaze above 15,000 ft. It would be a mesmerizing experience, isn't it?
Mount Everest 
Yes! the highest mountain peak of this entire globe, and it would be no joke to have an experience of skydiving here. The adrenaline rush and Goosebumps are no big deal when we talk about Everest. Above the sea level that too viewing the holy graceful beauty of the earth. Without a doubt, it can be considered one of the best locations to experience skydiving.
Skydiving at any place would make you fall in love with the beauty of nature. You will get a bird's view of the earth. So, where are you planning to spend your next vacation?